TurningPoint Energy develops solar, lighting, combined heat and power (CHP) and energy management projects for commercial, public sector and utility clients. As part of our project development, we also invest in the communities where our projects are located.
Solar Projects
For more than a decade, our team has developed, contracted, financed, installed and serviced more than 1.19 Gigawatts (GW) of solar projects with a value of more than $2.5 billion all over North America.
The vast majority of these projects used the power purchase agreement (PPA) structure of contract which utilities, school districts, cities, counties, states, commercial businesses, industrial clients and many others have gained comfort in utilizing to buy solar power without having to buy the entire capital solar asset. TurningPoint Energy develops Community Solar projects, as well.
The benefits to our solar power clients:
Connect your facility to a solar power project
Immediate energy savings
Alternative power generation to traditional grid power
Predictable electricity bills for 20 – 30 years
No upfront costs / infinite return on investment
20 – 30 year power purchase agreement
We develop, finance and manage the project through installation and service
U.S. Solar Project Experience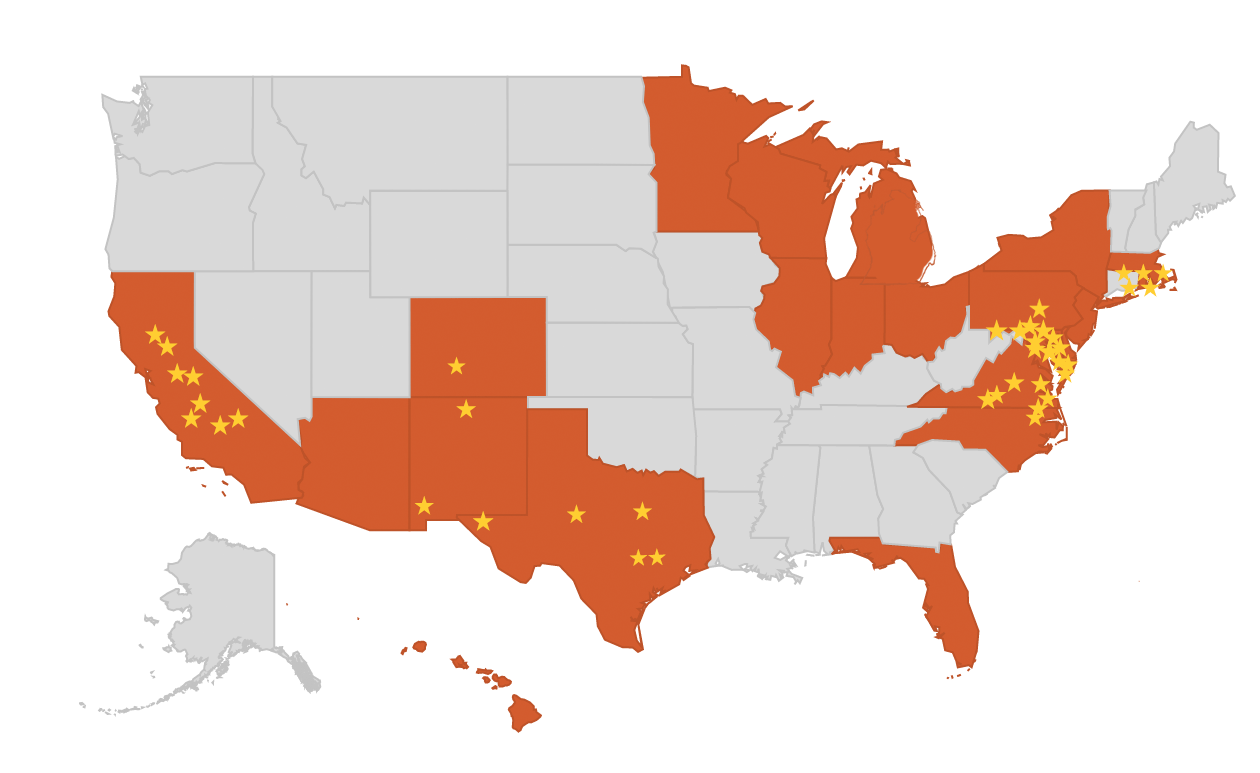 *Stars indicate TurningPoint Energy operational or under development projects.
Energy Management and Storage Development
Based on our expertise and business relationships, we often find that solar project development leads to building energy management and storage development discussions as well. When we listen to our clients, many times we find that they desire all-inclusive energy strategies and plans. We are here to help and do this as an advisor or as a project developer. Two specific areas of focus to solve our client's energy challenges that we are working on now include:
Energy Storage – We have always known that once renewable energy penetration into buildings and the utility grid matures, energy storage would become a vital tool to helping our clients further manage their energy needs. The cost of energy storage is on the way down and we are starting to work on solar and energy storage project combinations for our clients. The combined value of solar plus storage means further energy management and energy control for our clients over the long term.
Energy Management Systems – This is the software that links your building systems to your lighting systems to your solar systems to your energy storage systems which is now more important than ever. The ability to operate this from one platform efficiently can give you control of your energy future.
White papers, books and Speaking Engagements
Our team is currently working on white papers and a book on the solar industry, how it got to this point and where it goes from here. We see the solar industry as the "canary in the coal mine" in the form of a group of emerging disruptive distributed energy technologies that is transforming our energy future. We regularly contribute to the discussion on this topic and help lead the turning point of tomorrow.